Kraina Drzwi - A shop open to a customer
Kraina Drzwi is a dynamically developing firm which specializes in exterior and front doors for houses and flats. The company has been expanding their business online for years and their main advantage are products that are perfectly matched and configured to customers' functional and aesthetic needs. The previous layout of the store became overwhelming and lagged behind the changing needs of the market. Therefore, some system solutions had to be improved. It was time to change for the better with our help.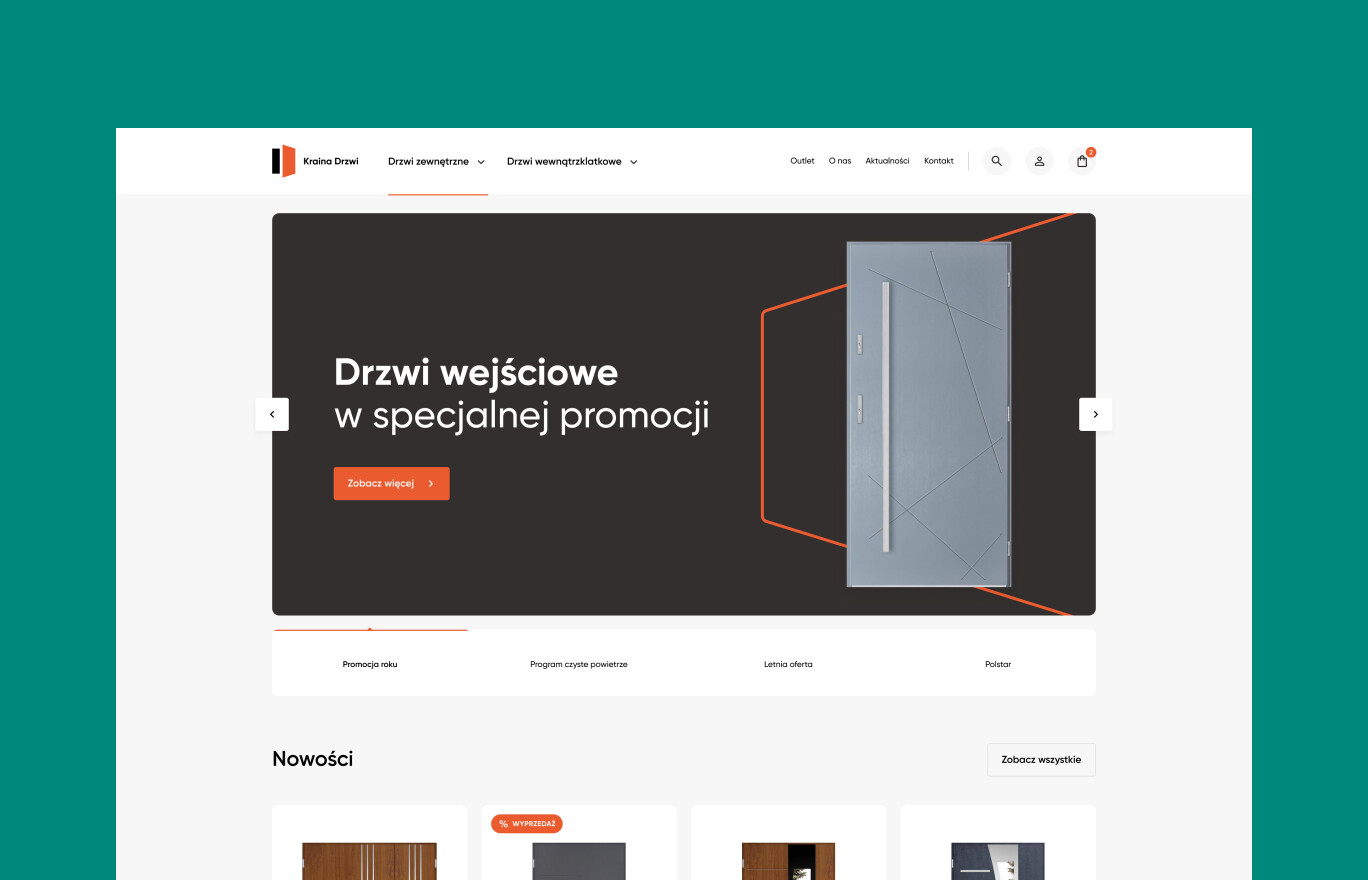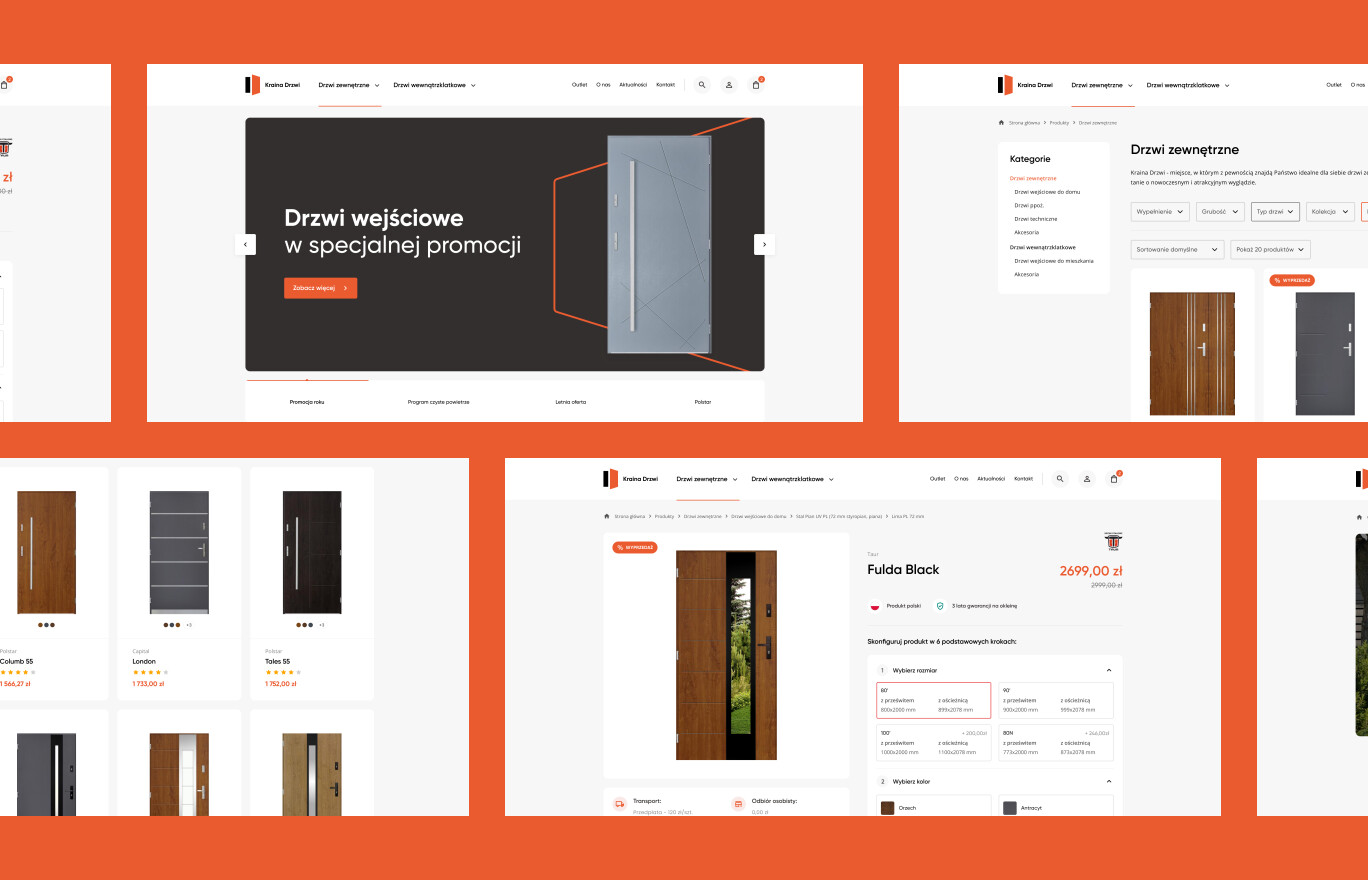 Realization process
Time for a new opening
The client's decision was to create a totally new website which was supposed to not only look more modern, but also to have more features than the previous one. First of all, a product configurator. We faced the challenge of designing a new look of the shop, strongly emphasizing comfort and convenience of a user. In terms of functionality, we had to develop a system that would enable a multilevel configuration of different door models together with generating a preview that would include the chosen configuration.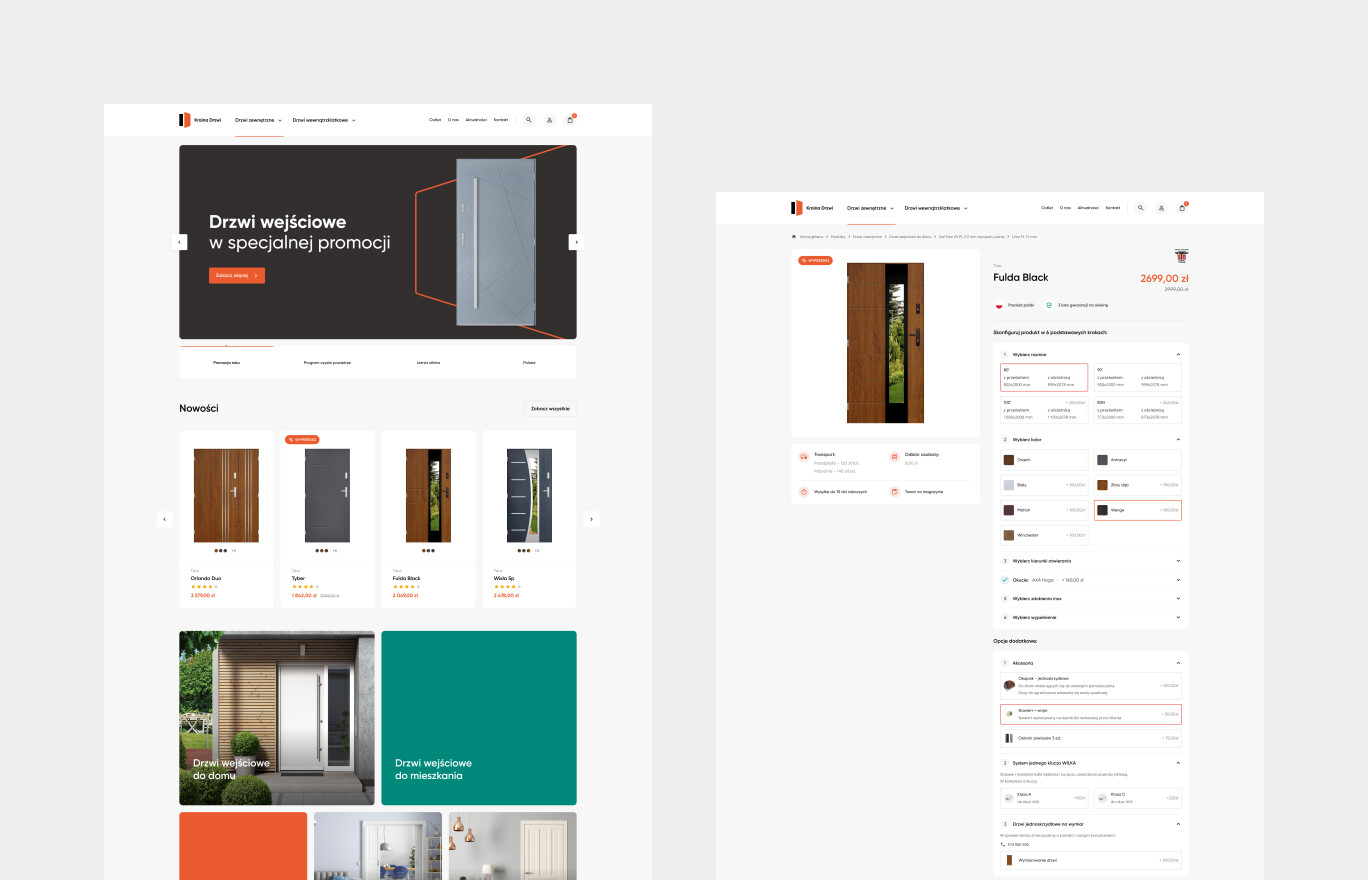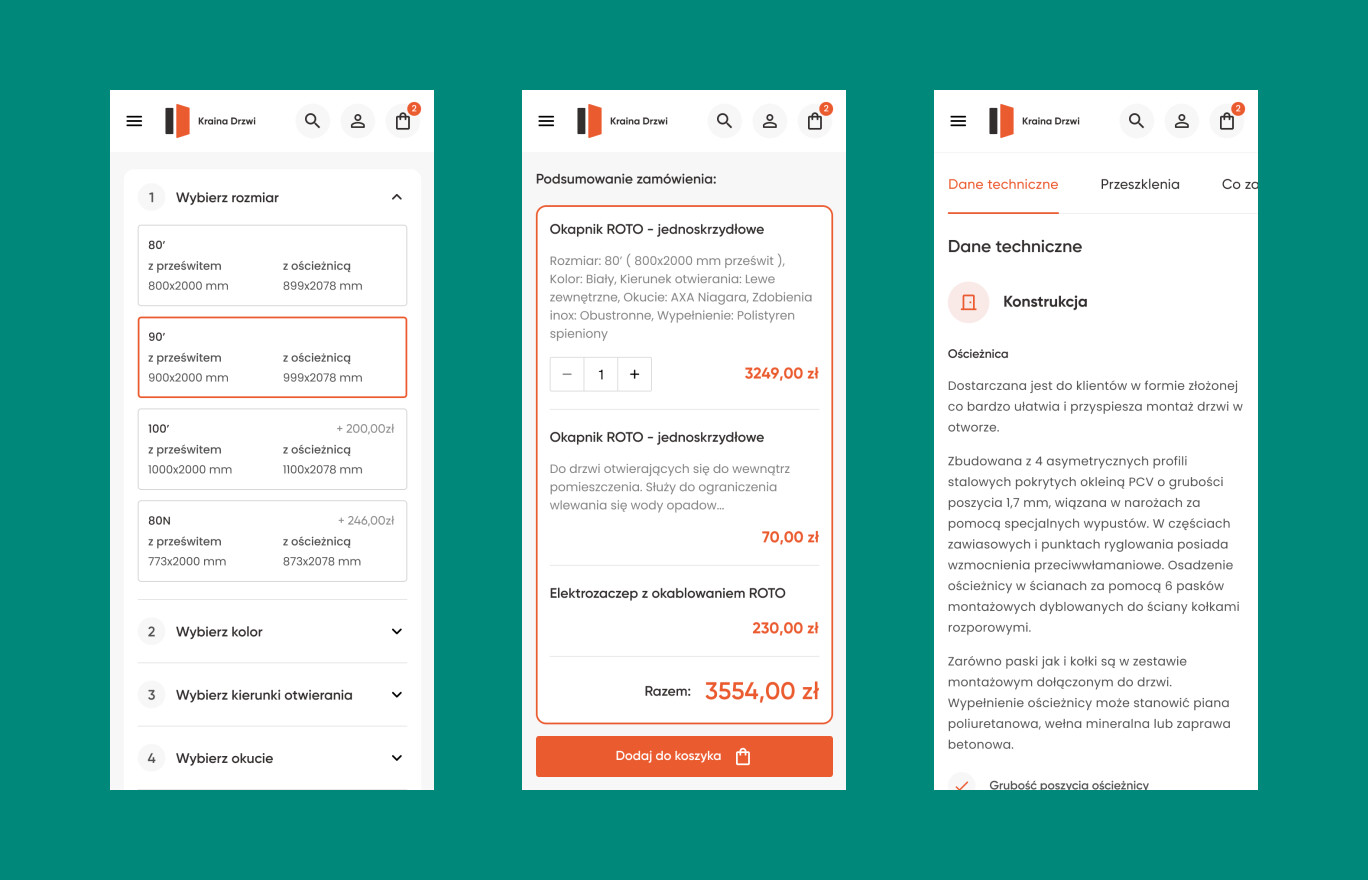 Solution and implementation
Made-to-measure doors
Our task was to implement a configurator that would be able to layer graphical elements dynamically so that a customer could see exactly the product that they designed using particular components. The important feature on the website are filters that dynamically search for optional elements that a door can have but are not included in the default configuration.
From a customer service point of view, a very important function was to design a new system of changing prices directly from the product list; a system that would dynamically change price parameters in the previously created product combinations. For example, if one product has got a few variations, e.g. size-defined doors, then instead of changing the price in each variation, we implemented a function of extra charging that solves this issue in the system. Thanks to this function, the time spent to change prices on the website is significantly shorter. The shop has got more than 1000 products, each in 5 combinations on average. Nowadays, with costs of materials changing on daily basis causing the client to update prices constantly, the efficiency of this tool is priceless.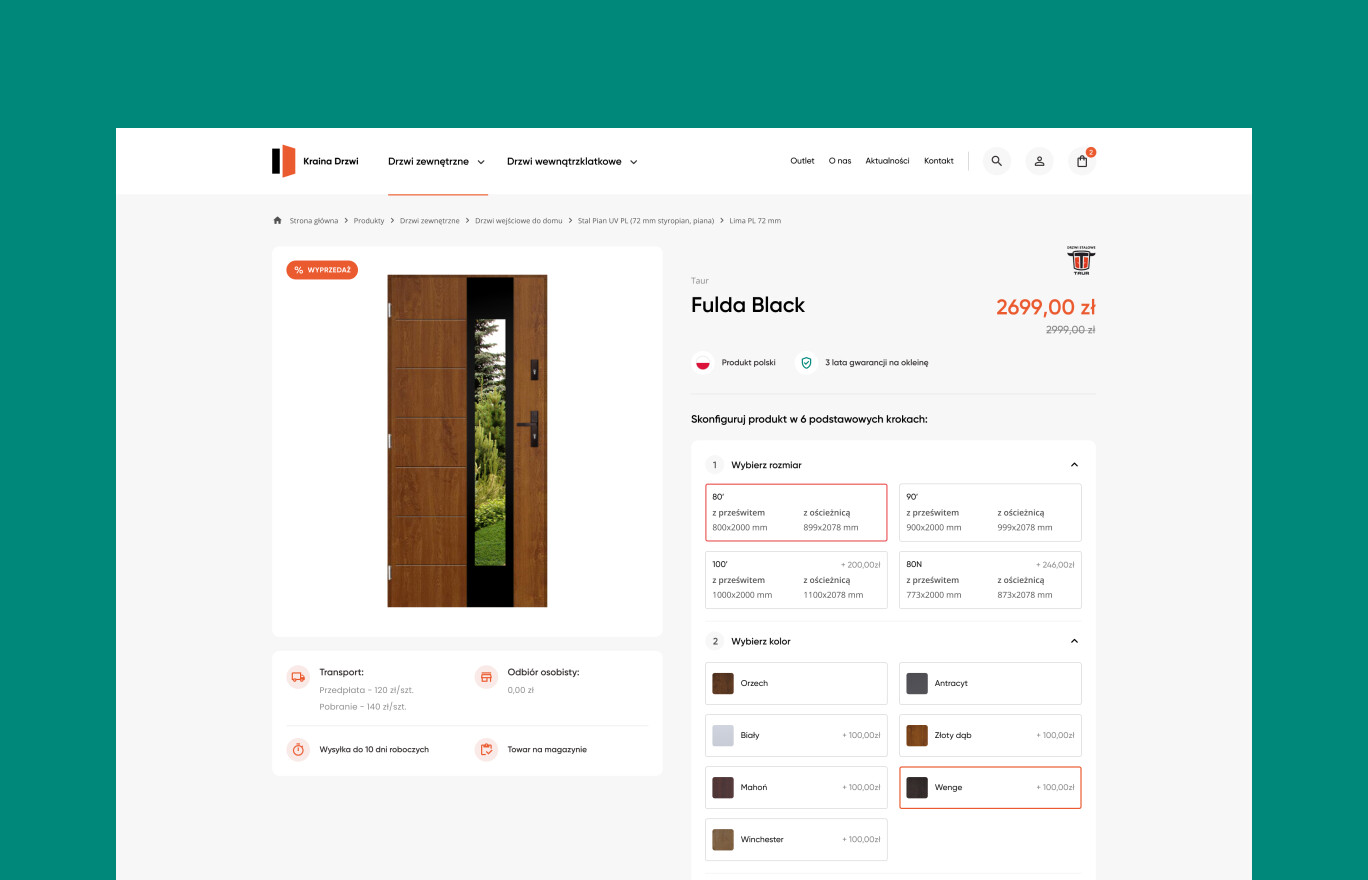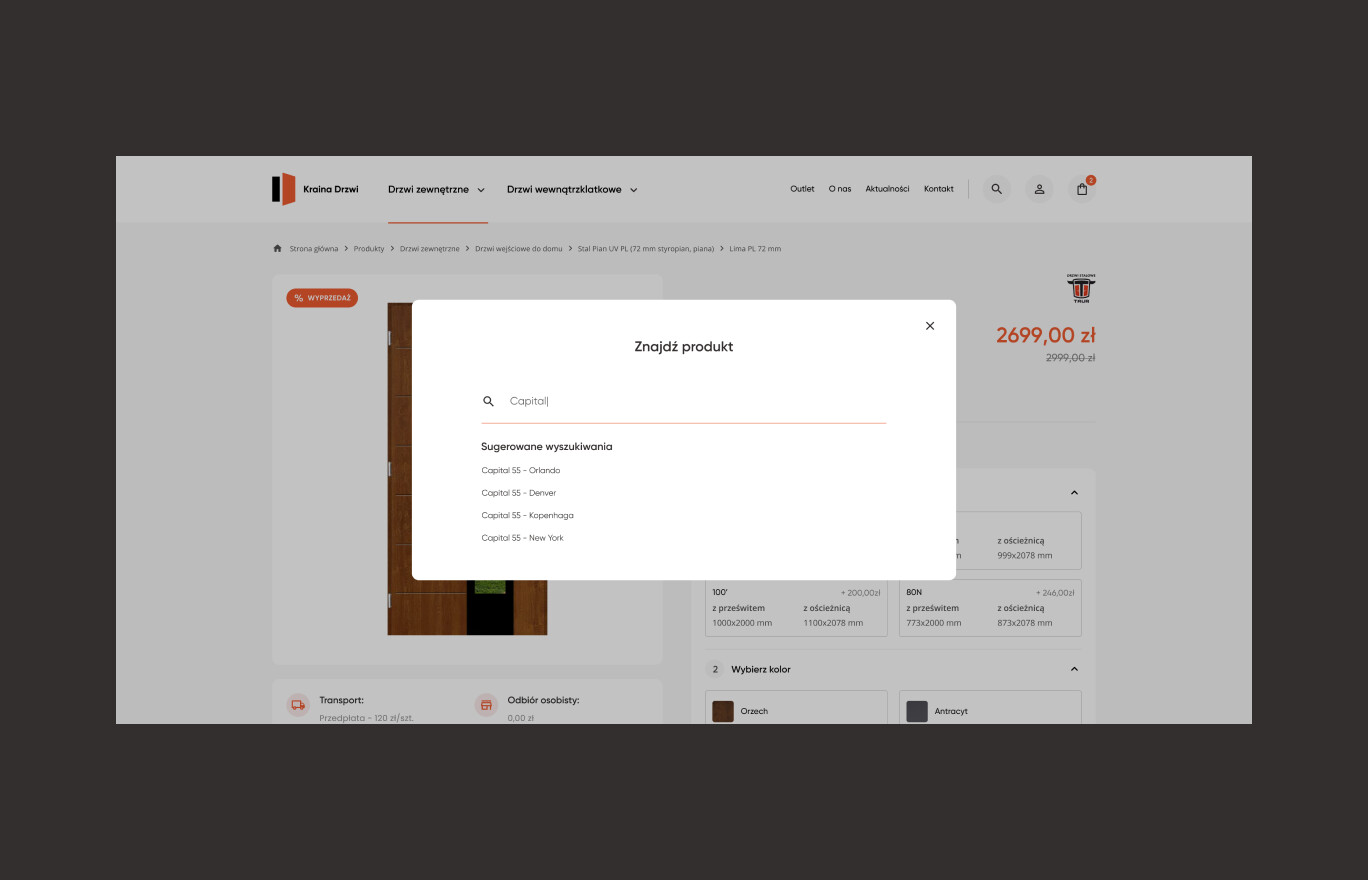 Effects
A successful renovation
A thousand configurations
Thanks to the use of modern graphical solutions, our configurator makes it possible to precisely reflect the look of more than 1000 products in many variations.
System of dependencies and exclusions
Each element affects the configured product and cleverly changes the price of a complex order.
Discount system
Possibility of generating promotional codes according to the needs. Influencers campaigns? By all means. System of promotions is a great marketing tool.
Modern design
Updated and adjusted to current standards, the new website look works well with functionality.
References
Trust of our partners is a great distinction for us
We've been cooperating with Sun Group for 15 years! Such a long cooperation time is perhaps the best recommendation. We entrusted their company not only with three online stores but also with a complex data management system. Sun Group has also realized a couple of bigger and smaller projects for us. I truly recommend them because they really know their business.

Working on the project for our company had two workstreams. First of all, we needed a new, advanced website for clients from more than 100 countries. What we also needed was creating a B2B platform for PH, integrated with our ERP system. Sun Group employees proved many times that the more difficult the project, the bigger the motivation they approached solving it with, creating reliable and useful websites. We've been cooperating for a couple of years and this has been one of the most successful and fruitful projects.

Sun Group, among other things, prepared a modern gaming service with a gaming forum. The realization was beyond our expectations. The work went very smoothly, according to the schedule and timetable. We are very satisfied and with future realizations we will surely keep cooperation with Sun Group in mind.

We reached out to Sun Group because we needed a new website that would show the history and the tradition of the Brewery together with our offer in a modern form. The results of this cooperation were positively surprising. I can only talk about cooperation with the company in superlatives. We brewed and drank this beer together. I recommend Sun Group and send my regards.

We've known people from Sun Group for many years. Our cooperation has always been thorough and in time. I trust them enough to have given all brands included in the Astra Group under their supervision. Sun Group does graphical works for us and manages our website. I am very satisfied about our cooperation.

Sun Group prepared and implemented many features for us; features that would facilitate the work of the office workers and their petitioners. For many years, the county office websites have been hosted at Sun Group and the company's employees have supported many of the county office departments. If you are looking for a reliable partner who understands very specific requirements of county office units, then I can definitely recommend Sun Group.

Sun Group helped us in creating a mobile app and a website with theoretical driving tests on the basis and in compliance with questions from a national driving test. This was a pioneering, innovative and multistage project and that's why, we decided to work with a firm that would provide us with a dedicated solution and complete, flexible support in developing the website. Sun Group team can always identify business needs well and do their best to effectively implement them.

We began our cooperation with Sun Group a few years ago. We mostly support the company in terms of legal and formal matters in realizing contests and lotteries for their clients. Together, we have realized many projects connected with personal data protection and trainings within that range. An e-learning platform that we built with Sun Group helps us a lot in realizing trainings.

I started cooperation with Sun Group by implementing an e-commerce shop that sold doors. Currently, I turn to the guys with each new project that I personally take part in. I'm satisfied with the service and the thoroughness that Sun Group provides me with. I think that our doings will result in a long-term cooperation.
Let's talk
about your project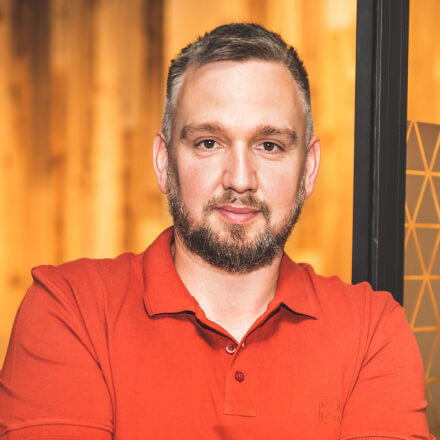 Sebastian Sowa
co-CEO, New Business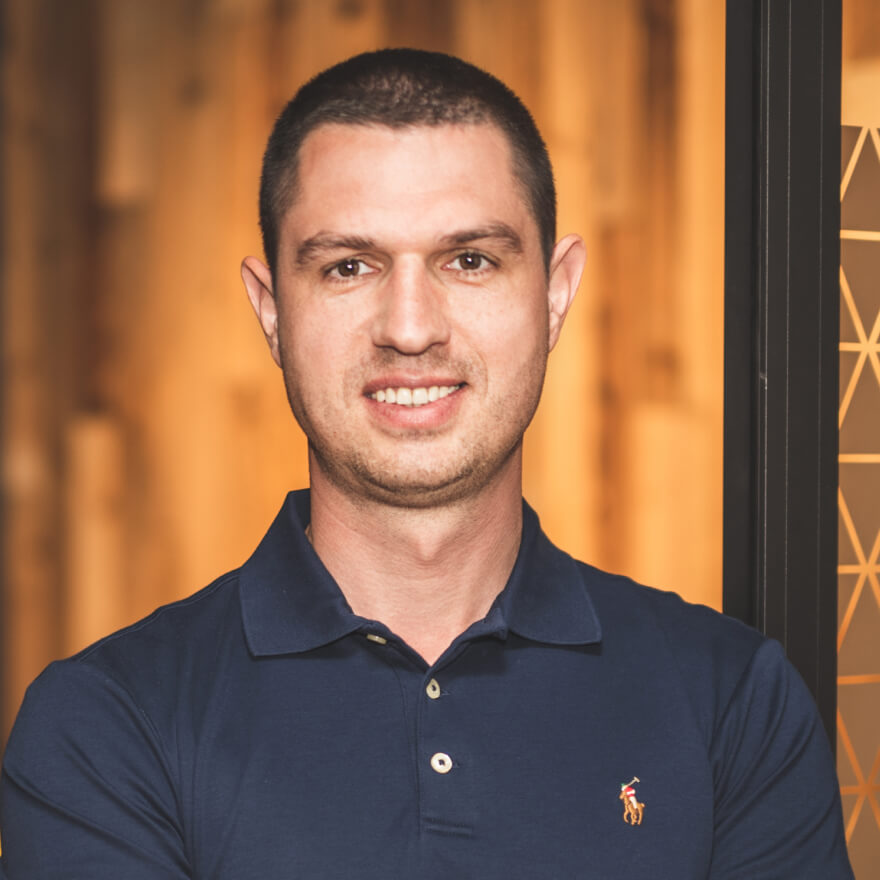 Michał Wiedera
co-CEO, New Business